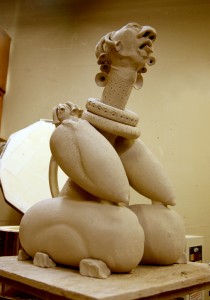 This a different sort of whistling vessel – ceramic musical instrument.  Only the fact that it plays two tones slips this into a category as an instrument, otherwise it is a tone sculpture.  Some 25+ wheel-thrown and hand-built pieces of stoneware were assembled to bring this piece up to its maximum height of 25 inches.  Now that it has been bisque fired to 1700 degrees (F), the actual height is closer to 23.5 inches.
This ceremonial whistling bottle sounds when one of two events happen.  By removing the small, stopper-head on the back side, the vessel can be filled with water.  After replacing the stopper, the entire piece can be rocked forward (ceremoniously bowing), until water escapes through the rolled tongue of the larger head at the top.  Due to the design of the tube that feeds the spout, a slight back pressure forces air up a second tube that will play the whistle locate beneath the surface of the nose on the larger head as the water flows from the spout.  The second way that this piece sounds happens when the partially filled vessel is rocked back to its upright position.  Air passing back through the tube and airway spout create a column of air that plays the whistle in the smaller bottle-stopper head. Yes. I know that sounds complicated… but it is that level of sophistication that the Inca figured out several hundred years ago.  That is a sophistication that I still find humbling in today's world of high tech.
There are intentional sides to this piece that reveal characteristics of a woman, a posture of worship, a gargoyle-like protector, and the mechanical mysteries of sounding a tone and delivering a stream of water.  I will leave it up to Dr. Ephriam Bowen to tell the story behind this ceremonial vessel.  In the meantime, the stoneware survived its initial firing and awaits staining and glazing.  Pictures of the construction process will be coming soon.