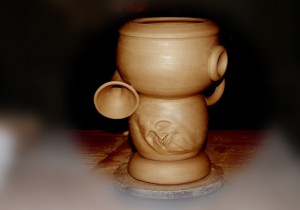 I would love to give someone else credit for the inspiration of this piece.  I looked at so many images of Udus,  Doumbeks, and Directional Conga drums.  Somehow, this assembled mixture of parts is the result of numerous sketches and several great ideas from other artists.
First of all, the stoneware drum is assembled from 6 wheel-thrown parts.  The upper-most portion is designed to accept a stretched, goat skin head that will be secured just below the lower lip of the top opening.  A ring-hole that references the side hole of traditional Udu drums is one of two outlet holes that come into play when the drum head is played…it could also be played, using this hole, like a Udu.
The lower portion of the drum is a closed bowl resting on a permanent ring stand.  This is probably a no-no for the percussion community, but this piece is intended more for display than actual use and I wanted the vertical display to be the only option.
The bell-shaped piece connects to the upper drum-bowl and is a funcional outlet for sound, much like a directional Conga.  The sculpted face has been pushed/altered from the wheel thrown piece to imply a human element attempting to escape the bonds of the ceramic musical instrument.  That aspect may be emphasized at the glazing/staining stage to relate the bell-horn shape with the trapped face.
To provide interest on what might be a plain back to this instrument, two wheel-thrown rings are attached that might function as strap connectors… I am a bit shaky on that thought at the moment but will wait to get a feel of the overall weight and strength of the piece before determining if these rings will provide a function other than decoration.
Four other experimental clay drums are currently drying in hopes that some of these will be ready in time to be featured in the upcoming Alumni Art Exhibit at Belmont University's Homecoming next month.