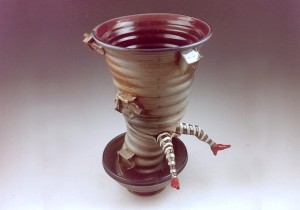 Containers for plants…they seem to be everywhere. From the big box stores to grocery stores, you see them with their Made in Mexico or Made in China labels at prices that are unbelievably cheap.  I am guilty of buying those pieces, but this year I turned my focus to making a series of self-watering containers for plants that are a cut above the mass-produced imports.
This particular piece came about from a challenge on a Potter's Council online forum.  The spring season in Tennessee is a time when we experience outbreaks of storms and tornadoes, so my Spring-themed container for a plant pays homage to those destructive events with a hat tip to a famous scene from the Wizard of Oz.
Now that I have opened this can of worms, I have to decide if it is worth it to make more of these things.  The nature of the design takes it out of the realm of mass production and the detail takes so much time that it will be difficult to recover the investment in time and energy. My wife has declared this a collector's item (hers) and has already pointed to the plant that she wants to see growing in this container.  I am OK with that idea…I had already experienced nightmares on what it would take to ship this thing with protruding legs as far as Kansas…or across the street for that matter.
I do like the idea of narrative pots. It seems a shame that the humble container for dirt and plants doesn't seem to be worthy of artistic respect.  Perhaps an new class of container classification would boost the reputation of the narrative pot…something like Conteneur de Fleur – Fantaisie could bump the price tag up to something respectable.  So, before this post sounds too much like whining, I did have fun making this piece and that enjoyment has a great deal of value to me.  Now, I have to work on getting that "Ding dong, the wicked witch is dead…" music out of my head.  I am definitely NOT in Kansas, Dorothy!
F3 – The Wicked Witch is Dead 18″ tall stoneware container for plants with self-watering features. Principal container is wheel-thrown in three separate pieces then assembled with hand-built house parts and stocking legs.  Underglaze was applied to the stockings and shoes then the entire piece was sprayed with multiple, blended Cone 10 glazes.  Final firing was reduction, Cone 10 in a Bailey gas kiln.