I will be showing ceramic musical instruments in a public show next February and March and that is pretty exciting. Other than a few craft shows and private sales, this really qualifies as my first exhibit…and that makes me a little nervous.  There are several pieces that are show ready now, but I'd like to do something that specifically addresses the theme: Invention and Creativity.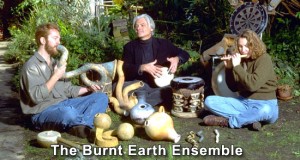 Conceptually, here is where I'm going: Imagine a small ensemble, perhaps 3 or 4 musicians playing  what appears to be a family of instruments…and not necessarily the traditional families of woodwinds, brass, percussion, etc. The 'family' simply looks like they need to be played as an ensemble.  The key instrument would be an ocarina and key, in this definition, means that the ocarina would be the determining factor as to what musical key the ensemble plays. The second instrument would be a lamellophone, constructed from mixed media (clay and steel), and tunable to the fixed key of the ocarina. The remaining instruments would be more traditional, but whimsically formed, percussion instruments…probably drums and rattles, all constructed from clay. OK, so now the foundation for a display is set. What would make this more creative and inventive, but an original composition?
So here is the plan: design the instruments (probably a few variations of each), construct and fire the ceramics involved, complete the assemblies with whatever media is needed, determine the range of sounds (essentially the musical palette), compose some music to match the limits of the instruments, record music, master the music for a digital playback device, procure or build a display system that includes playback capabilities…and then wonder, sleeplessly for night-on-end before the show, if anyone would have a clue as to what was involved in the process I just described?  Ha!
The answers matter little at this point.  I have just enough time to pull this off and make a decision as to whether this would make the show or not… I just think it would be sufficiently unique, that it would bring smiles to faces and an element of fun for the Invention and Creativity theme. The pressure is off as long as I keep this a secret, right?   Oh. Wait!
Inspiration and image by Barry Hall and Burnt Earth Ensemble's Terra Cotta album.