We parked the RV in a well shaded space in familiar territory at Cedars of Lebanon State Park. Historically, the fourth of July weekend begins several days before the 4th when the best camping spaces are filled by other first-come-first-served-savvy campers…they were here early staking claims, just like we were.
After the normal cooking area, dining tent, RV awning, and general hook ups were complete, a small folding camp table and a circle of chairs found their way around the metal fire ring. Fire rings are the designated spots where campers are allowed to build campfires in their respective sites without raising the eyebrows of a friendly park ranger. Let's review quickly here: Middle Tennessee, July, humidity, and a thermometer that reads like it is set on London Broil* – there will be no campfire in this space on this weekend, but it is the accepted space for conversation. To the campfire set-up recipe, I add my clay tools, a spray bottle, a bucket of water, several pounds of pre-mixed stoneware clay, and a handful of my favorite toys clay tools.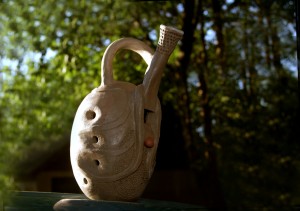 I'm pretty sure that I made it all they way through making the first pinch pot before Ruby, a precocious 8-year-old, walked from the adjoining campsite to ask, "Who are you and what are you making?" By the time the airway on the first ocarina produced a whistle, Ruby's dad stopped by along with a small contingent of people who seemed astounded that some old dude was making instruments out of clay. The parade of folks stopping by to watch and ask questions during the weekend stay was never an interruption, it was the perfect 'social media' to connect total strangers, long-time friends, and even family members to chat about building sculptural ocarinas.
While my long-time friend, Breakfast Bob, was taping a short "how to" segment on his Flip camera, he commented that we needed to take this show on the road. Ocarina building attracted all ages and all types, including the itinerant. campground evangelist couple who suggested that the pottery building thing was a great hook for a ministry. As for me, I'll stick with Ruby and her friends who wore the pavement out next to our site, waving and yelling, "Hi, Paul" with each bicycle drive-by.
*The weather was actually unseasonably cool for this particular trip, but the threat of steamy weather remains…and this is my story , so hush!