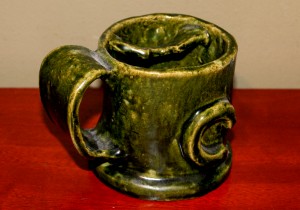 I spent the best summers of my college days on the staff  at Camp Ridgecrest for Boys herding campers from one fun activity to another.   One of those activities involved a trip to the crafts lodge where Frances Clark set up shop to teach the basics of clay construction.  With amazing patience, Frances demonstrated to the boys how to roll out a slab, join pieces of clay together with slip, and ultimately how things would turn out once glazed-and-fired in this shiny contraption called a kiln.    Not to be outdone by a bunch of 8 year-olds, I  picked up the mud and made my very first mug…the one pictured on this post.
It was Frances who cheered me on as my simple mug transformed to a mustache mug, to a mustache mug with my last initial decorating the side.  As best I can remember, that was the only pot (mug) that I made at camp that year and yet the memory of that experience stays with me some 40 years later.  The very nature of ceramics is permanence, but I wonder how often we consider how important it is to sow the seeds of creativity like those that Frances shared with so many campers (and staff like me).
Over the years since camp, one of my greatest joys is hearing from a former camper who reminds me of some event or interaction (that I rarely even recall), but that made an impression or impact on his life.  Well, it is my turn to return the favor to a fellow staff person.  There are many Thank-you's that never manage to get spoken.  To Frances and the many others who sowed seeds of creative energy in my life (and undoubtedly the lives of others) I say, Thank You!