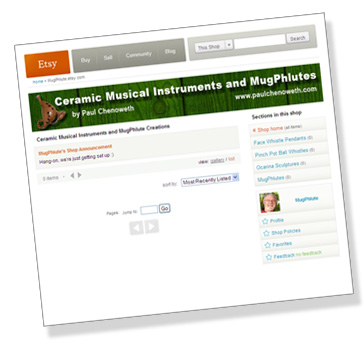 One forgets that there are several aspects of setting up shop online for an artistic enterprise.  There is a community of artists and crafts  people on Twitter.  There are numerous artist's pages on Facebook.  Flickr accounts and badges appear on numerous web sites for artists.  What seems to be  the most popular outlet for e-commerce is Etsy.  It is a site that I have explored before, but not seriously…until now.  There is nothing on the MugPhlutes Etsy Store today, but there will be before long.
This exercise forces a chain-reaction of events.  Pieces that are to be sold have to be identified, photographed, described, packed, and most importantly, priced.  The whole pricing thing is the toughest thing to do.  I have done some of my homework to see what the market expects to pay for unusual/creative pieces, but there is always a level of discomfort in placing a price tag on something, knowing that there are (hopefully) better pieces coming out of the kiln in the future.
Stick around.  This is a work in progress and Etsy will play a role very soon.  Here is the first view of Ceramic Musical Instruments and MugPhlutes.