Novel writing hit a speed bump last year when I discovered that there were actual, historical artifacts that related to my protagonist's quest to discover the source of mesoamerican, ceramic instrumental music. OK, so it wasn't a speed bump, it was more like an aha-moment-stop-the-presses event that sent me into a frenzy of applied research and experimentation.  Whistling vessels are a fascinating mystery.  Whistling jars that involve the use of water are even more mysterious. The key word for the historical fiction writer exploring these artifacts is mystery.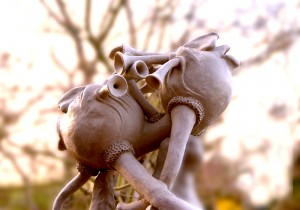 In contemporary circles there seem to be a couple of theories regarding the use of  whistling vessel artifacts found primarily from present day Mexico to Peru.  Donald Wright makes a solid case in Peruvian Whistling Vessels that their use involved making metaphysical or supernatural connections:
"…A discovery utilizing sound that could transport human beings into a new and unique realm of experience…possibly to other worlds of existence. This sound was not music, but instead a special toning of whistles which, when blown together with other such vessels, had the ability to induce what has been described as a trance state of a spiritual nature."
Brian Ransom, (educator, clay artist, musician, and researcher) writes that water rather than human breath played a role in the function of whistling water jars.  His extensive studies into the actual construction and artistic characteristic make a solid case that these instruments may have served a variety of functions but ultimately compound the mystery of their actual use:
"Music, ritual and contact with more-than-human realms via hallucinogenic substances as well as in everyday belief systems are prevalent among indigenous South Americans today. We can speculate that these mystical religious beliefs were also prevalent in ancient times. With these thoughts in mind, we can theorize that whistling jars were used as a means of spiritual contact."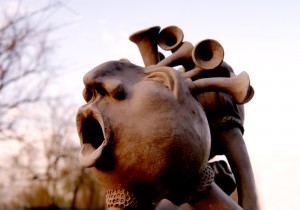 Toward the end of Don Wright's article are suggestions that whistling vessels were very personal, evidenced by their presence in a number of Pre-Columbian burial sites. Equally intriguing is the concept that the mysteries of the spiritual qualities, construction, and inherent powers are passed along to select individuals from one generation to another. I count myself as a skeptic to the mysticism and powers of an inanimate object, even a whistling vessel. When demonstrated, however, the reactions by individuals who see and hear, first-hand a whistling vessel in use is often an other-wordly, "Wow". Those reactions alone are sufficient for Dr. Ephriam Bowen to delve further into the mystery of ancient, ceramic musical instruments as well as the keepers of the skill to construct these enigmatic works of art. The time is approaching that my old friend Ephriam will pick up his pen and wrap up The MugPhlute Chronicles.
Pictured here is the work-in-progress whistling water vessel that will likely inspire Dr. Bowen's fictional accounts.
Tags: "Brian Ransom", "Donald Wright", "whistling water vessel", Ceramic Musical Instruments, stoneware