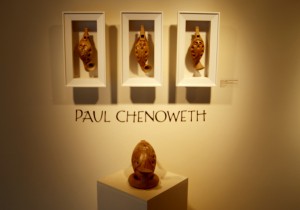 Belmont University's Third Annual Alumni Art Exhibit includes several of my latest efforts at producing ceramic musical instruments.   Two separate areas of the exhibit display Escape Series percussion instruments and ocarinas.  Eight Belmont alumni are showing works that range from traditional oil paintings to a personally published/printed children' s book to pen/ink graphic sketches. The show is located in Gallery 121 in Belmont University's Leu Center for the Visual Arts and will run through March 3, 2011.
Thursday afternoon, I was invited to talk to students and visiting alumni about the instruments in a brief gallery talk.  Many in the group seemed surprised that the ocarinas actually play full scales and other seemed fascinated by the goat skin drum heads.  Although neither a drummer or a flautist, I was able to demonstrate the traditional Udu's, the experimental Doumbeks, and several of the ocarinas.  It may be time to expand my flute repertoire beyond a feeble version of  This Old Man that I learned in a third grade song flute class.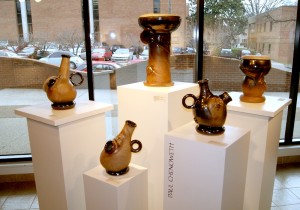 My general nervousness of showing ceramic work for the first time in an exhibit was erased early by compliments from other instructors.  Belmont is such a supportive place for creative endeavors… I should have anticipated the encouraging words.  Many thanks to Belmont's Office of Alumni Relations for their faith in me for pulling together the alumni exhibit!
The body of work continues to grow.  In the next two months, I anticipate production of a new series of instruments with a heavy historical context, elements of sculpture, more experimentation in functions, and perhaps a nod to the traditional face jugs of Appalachia.
Here are a few Flickr.com images from the exhibit.