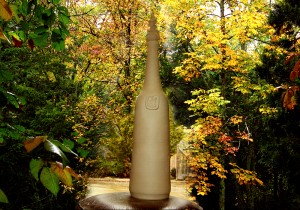 Given the choice between making vases or making bottles, I chose the latter. The decision probably has something to do with a home that is full of great examples created by the real ceramic artist of the family…and something to do with the cool factor of making tall bottles with unusual stoppers. I have no idea what I will do with any survivors from the bisque and gas firings, but I suspect that empty Etsy account may finally have entries just in time for Christmas.
The Pricing Dilemma
Each bottle takes about an hour to throw and join…excluding some drying time between throwing and joining the sections. Add another hour for trimming, decorating, and clean-up and I have a greenware piece ready that must dry slowly. Stoppers generally take another hour to throw, carve, clean-up, and fit. By the time bisque firing and glaze firing are complete, each tall bottle has nearly 5 hours of my time committed to the project in a process that takes about two weeks from start to finish. A quick Google of handmade ceramic bottles returns pricing results that range from $55 to $200, so, somewhere in the $60 to $75 range seems to be a reasonable target. Your thoughts are appreciated.
The Details
Any bottle that I make that is over 12″ tall is thrown on the wheel in two pieces (usually about 8″-10″ each), then joined and completed while still attached to the wheel head. Stoneware clay is my preference, but porcelain makes highly polished bottles possible although they are a bit more challenging to produce. I have not ventured into the world of really tall bottles, made of three joined pieces, but the possibilities for horn shaped pieces constructed using that technique are certainly a possibility (with kiln height limits taken into consideration). I am including the MugPhlute stamp on all of these pieces since they do include a unique stopper with an instrumental musical theme.
Glaze images coming soon (I hope).
Tags: Belmont University, clay class, stoneware, wheel-thrown