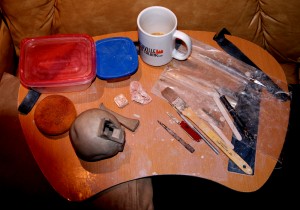 So you'd like to do some hand built clay projects while vacationing, right? Sitting by a campfire making pinch pots or lounging by the pool making buttons or whistles or something sounds attractive…well, I am there with you in spirit. Clay projects on the road aren't for everyone, but if you enjoy getting your hands in the mud as much as I do, there is something therapeutic about doing clay with a change of scenery.

Here are my top 5 tips for making this enjoyable:
Do some reverse planning. Heading back from your trip with several pieces of greenware could mean disaster. Take enough re-seal-able buckets, bins, or gallon ice cream buckets along with foam padding, so that you can safely transport your work home without fear of crushing or uneven drying.
Think small. On-the-road is no time to be doing full-sized sculptural busts. Remember Tip #1, you still have to transport your projects home in a fragile condition. Generally, I think of limiting travel pieces to nothing larger than a softball and my workspace as small as a computer lapboard.
Streamline your tool selection. It is so easy to get caught up in the I might need that syndrome that your toolbox is larger than you suitcase. Forgetaboutit! If you can hold every tool that you want to take with you in one hand, you are on the right track.
One clay only. I carry no more than 5 to 7 pounds of wet stoneware on a week-long trip along with a very small, lidded container of slip made from the same clay. OK, you can carry two types of clay if you must, but it does complicate matters a bit more.
Slow down and Play! Think of your travel time clay projects as a time to experiment and do things that you might never take time to do at home. Are there different, detailed textures that you'd like to try? Wouldn't it be nice to have some fresh, custom, impression stamps to use later? What about making a small-scale, study model of something you have been considering? All that to say, don't make your travel time with clay the same as you home/studio time.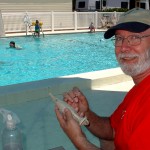 One last thing for all of my networking friends. If you are sitting by the pool, or by that campfire, or lounging beneath a beach umbrella with a lapboard project in-progress, count on a curious stranger stopping by to watch and ask questions. You can figure it out from there on how to make your new friend a new link in your network…you might even use some of those business cards for something besides a scoring tool or a means of rescuing a bug from your slip container 🙂