…and I make whimsical, ceramic musical instruments called "MugPhlutes". Playing in the mud is stress relief for me…it is my favorite outlet for sculpting and making unusual objects that produce sound. "M" is for MugPhlute offers a peek at the craziness of the construction process and how some of these objects relate to the fictional tales of Dr. Ephriam Bowen, Music Archeologist of the Yucatan. Dr. Bowen has Chenoweth family connections that will be discussed later (it may explain some of the craziness). Notes from his journal about an ancient, mysterious, musical priesthood who roamed the Yucatan Peninsula during the Mayan era will dot this blog periodically. His discoveries are unbelievable amazing.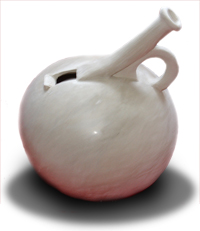 Follow along. There may be a new pottery studio that evolves from this. Who knows, some of these creations may find their way to a shopping cart. Hang on to your wallet.
Your comments are welcome, but be nice. Critiques are welcome. Comments from the planets Spam, Jerk, Flame, Pharma, MLM, and Weirdo will be deleted and unceremoniously chucked into one of Dr. Bowen's remote sacrificial cenotes.
-Paul