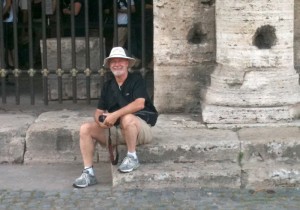 Less than a week ago, Deb and I were traveling across Italy with the Belmont University men's basketball team. It was quite a trip. We hit Milan, Lake Como, Sienna, Florence, Lucca, and Rome in glancing blows that would make even the most seasoned traveler's head spin. I would be remiss if I did not add what a pleasure it was to be around the team, the coaches, and family members…a terrific group of people!
I will claim Florence as my favorite place and the city that I would most like to re-visit just to spend a week or two exploring in greater detail. Our hotel was just a block or two away from the Duomo in Florence, so walking was the perfect means to see the sights. I will probably NOT climb the narrow steps to the top of the cathedral dome again, but the view from the top was well worth the sweaty clothes and sore calf muscles. I would definitely allow for more time in the evening to eat and people-watch from a sidewalk ristorante or two.
Among the 700-800 images that I captured on the trip are just a few of me. This particular shot was taken by Cheryl Byrd during our brief stop in Sienna. It may have been the only time I was off my feet all day. The smile does tell the story of the trip. Great fun. Great company…and much to process.
Oddly enough, I don't recall seeing any ceramic musical instruments during the trip…but there will be more coming soon from a clay lab here in the USA, I promise!