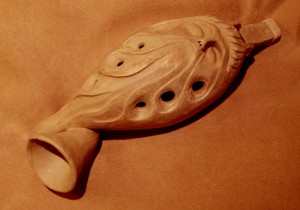 While I am patiently waiting for all of the new Udu's to dry, I have ventured back to a familiar friend for a new series of ocarinas.  Changes in the way that I construct and assemble the airway tubes made things much more predictable for extending the tonal range of these pinch pot construction ceramic musical instruments.  New to this series is the addition of facial features embossed on the front surface of the ocarina.  These gnome-like faces are figuratively escaping the bonds of the clay but do not reveal themselves in complete detail.  They are a metaphor for the music that also escapes the hollow body of the instrument, reaching the human ear only when someone (musician) is there to force the music to leave.
This limited series is hand built from a small batch of recycled stoneware that I have been hoarding for over a year.  During that period, the aging process produced a very plastic and workable clay perfect for pinch pot construction.  So far, there are 5 of these ocarinas completed and ready for firing.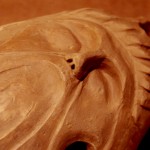 Each has been designed for display as a wall-hung sculpture and each one is a fully functional single octave+ flute that employs typical penny whistle or song flute fingering.  Construction generally takes about 3-4 hours for each, excluding time needed between construction and carving phases to allow the clay partial drying.
With a little luck and a happy reduction firing schedule, the Escape Series will make it into the gallery in about three weeks.