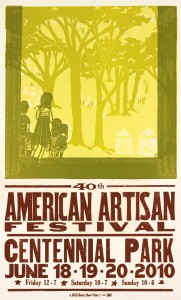 It is not surprising that Nashville made the American Style Top 25 Big Cities, destinations for art. We certainly love our music and we have some amazing venues for hosting music, theater, and art exhibits.  From my perspective, the fine arts dominate the studio, gallery, and museum scenes in Nashville and that may be the justification for the American Style selection.  Of course, I would love to see clay artists (potters or sculptors) take a more prominent position in the community (and there ARE some notable choices among clay artists)… but as for a sense of community among clay folks in the area, it is a weak link in the arts' chain and that is reflected in the absence of public studios, workshop opportunities, and cooperatives.  Perhaps Nashville is just a little too far removed, geographically, from the traditional arts of Appalachia to be a mecca for clay people. I'll not even entertain the stale, potters aren't artists debate…save that for the classroom.
This coming weekend, the 40th American Artisan Festival will take over Nashville's Centennial Park and will provide a great fair-style show with 165 exhibitors. This is a show that I will meander through in spite of the hot-humid forecast.  If the attendance at the Spring TACA show is any indication, the era of run-and-gun sales at outdoor craft shows in Nashville may be on the decline. I am still hopeful, however, that low attendance is just a cyclical economic indicator.  Ya'll come on down!
P.S.  No. I am not showing at this event.